Character Description
Image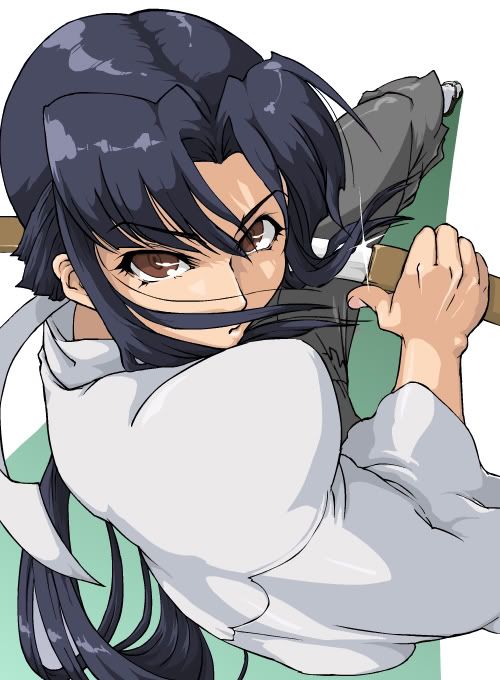 Basic Information
Profile Name
: RogueElement
Character Name
: Akiyama Kaede
Gender
: Female
Age
: 42
Height
: 5'2"
Weight
: 90lbs
Personality
: In the case of Kaede, age truly has bred wisedom. A statue of principle and common sense, Kaede is often seen with a thoughtful expression on her face, seeming to continuously study every detail that surrounds her. Despite this thoughtfulness, she can be reckless with trying to maintain her morality and principles, not afraid to push the patience of her enemies and allies alike to satisfy them.
She is something of a pacifist, who believes that blood should only be shed when all avenues of peace have been exhausted. Because of this belief, those who know her are fully aware that if her sword is unshealthed, that she has been pushed too far. Despite this, she still has an issue with killing her opponents as has been known to leave them to die rather then bring herself to end their life by her blade.
She has a habit of speaking to people respectfully, regardless the other persons attitude towards her and has a fixation on finding the perfect brew of tea. She usually wears traditional style clothing, whether it be her fighting robes or her traditional kimono she wears around the has during her duties as a wife.
Basic Info Continued
Rank
: Kounin
Clan
: None
Weapon(s)
: Enman Tsukurite The Lightning Sword
Fighting Style
: A reckless style that shows very little well being for her own health. She relies heavily on her unequalled medical skills, particularly her ability to regenerate injuries. She's a lightning user to the highest degree, with many of her offensive and defensive jutsus utilizing the element.
History
Born Kaede Oshiro, she was the only daughter to come from her parent's marriage. After many long years of trying and almost giving up, Hanako became pregnant with their first child, Kaede. Her parents were always so proud of their daughter and her beauty, frequently showing her off to their friends. Kaede never minded the attention but was almost just as happy to be left to play by herself. She would frequently play Ninja with the other children along the beach.
Wanting more for their daughter then just an ordinary working life for their daughter, they pushed her to enter the Ninja academy. Eager to please her parents, Kaede gave it a try, showing some promise as a Ninja. Managing to graduate with only average marks, Kaede was placed in a team with future Selena Hayabusa. The two girls became fast friends with each other developed a close bond.
Kaede's first true shining moments was when their sensei entered them into the chuunin exams for that year. She was paired against a young upstart from Wind Country, Takamichi Nakamura, who had apparently yet to be defeated in combat. Their fight just about obliterated the stadium as the two Genin fought a vicious battle against each other. Despite Kaede's best efforts, she was defeated by knock out after allowing her guard to slip.
Gaining her promotion regardless of her lose. She eventually left her team to journey the wide world around her by herself, visiting many lands and many hidden villages. It would be during this time that she would meet her future husband for the first time in Tea Country. They parted way soon after their meeting, however, not to see each other for several years.
Her eventual return to Isshu saw tradegy soon after with the death of her best friend, Selena Hayabusa. Distraught over her death and that of her family, Kaede left Isshu once again, landing herself deep within Iron Country. Her time in Iron Country saw the development of her skill with the blade, learning many techniques and abilities during her stay.
Her eventual return home saw her return to normal duties, finally taking a Ninja team of her own and being reunited with Selena's son, Enya. She would proceed to go out of her way to spend time with the young boy in attempts to connect with that part of Selena that she had lost.
An adventure with her team saw her reunite with a certain Tea Country ninja from her travels, Akira Akiyama. After he offered to assist in their mission, Kaede and Akira grew much closer. Their attraction only developed deeper when he accompanied them back to Isshu Country. Kaede fell for Akira during his stay in Isshu Country and they were married mere months later. Akira lived with Kaede in Isshu Country from then on, living together in their beach side home. Kaede fell pregnant with the couple's first child, Reiko, taking time off of her Ninja duties to have the baby...
Character Stats
Level
: 83
Stamina
: 25
Speed
: 23
Strength
: 15
Intelligence
: 10
Chakra Control
: 30