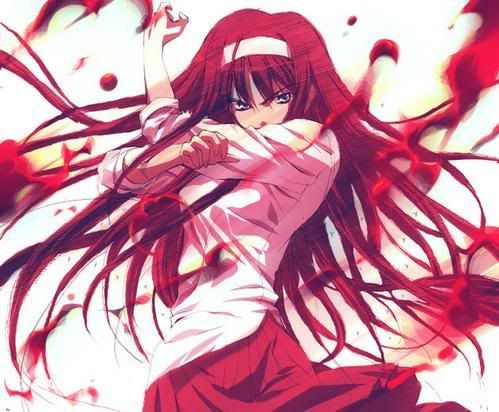 Basic Information
Character Name
: Yuudachi Niji
Gender
: Female
Age
: 29
Height
: 6'0"
Weight
: 133 lbs.
Personality
: Niji can be described as a complex personality. On the surface, she can be untrusting, suspicious of others, and generally easy to get on her bad side.
However, deeper down, she is a person that just has a hard time trusting people but those she does trust she cares dearly about. A bit confusing to outsiders that don't know her, but she's not too concerned about that.
Basic Info Continued
Rank
: Kounin (?)
Clan
: n/a
Weapons
: Nijieda (Custom Weapon; Bow & Arrow made of light but sturdy material allowing for long arrow distance), Katana, Kusanagi no Tsurichi
Fighting Style
: Quick to use ninjutsu first, sealing techniques second, and physical abilities third.
History
Niji isn't the type to willingly discuss her own past, for her own various reasons, however her life details that have been revealed through her storyline will be listed below!
At the beginning, Niji was to be the daughter to two average Kiri Chuunin, but her father-to-be would find himself six feet under on a mission and her mother-to-be died while in childbirth. This lead her to never having known either parent. And even though if you somehow knew about it, and asked her, she would just decline saying its all in the past and doesn't matter but deep down inside she wishes she could have known them.
Considering that there was no nuclear family there for her nor any extended family to speak of, there was little choice but to plant her within an orphanage. The only one in Kiri at the time, which during this period had an unstainable reputation being sponsored by some corporation that had a spotless record. But at a very young age Niji would find this place was not fun, and would very much influence her outlook on life.
There was one person who controlled the orphanage, and ruled it like she was the Queen of her castle. Things needed doing all the time. Not just mundane chores like dishes, washing clothes, etc. Nah, the corporation that led this hellhole was running amid a bit of a financial crisis and decided to enlist a little bit of "help" from some of the young children of the facility. Things that some adults refused to do, children were forced to do in their place. Working in textile mills, caverns for various materials, etc. Hard Manual labor was not off limits for children even as young as six years old. And if they refused? Well, things didn't go well with that. So hardly any child dared to considering the Iron Grip that was held over them. But one child in particular was brave enough to stand up and say "Fuck no!" That child was Niji.
However, she paid for that courage, and she paid for it with constant and severe beatings, whippings, verbal abuse, and complete refusal to feed and clothe her and to only provide her shelter with the shittiest room in the whole place. however, she refused to give in as she simply stole for her own food and clothing needs. Problem solved, but still, she now had a reputation as a thief, and even though she doesn't steal anymore, there is somewhat of a shadow cast upon her for this still.
Since she refused to give up, they simply made her punishments even more severe as the days wore on, even getting to the point that shock therapy was being used on her to a shocking degree. Still, every time it happened she rebelled and refused to give in and spat in their faces when they acted high and mighty towards her. But since she was receiving such cruel punishment, the other children wanted nothing to do with her out of fear of punishment from the higher ups. The constant humiliation though, caused her to attain a very specific goal in her life. She wanted nothing more than to be strong and to never be regarded as weak. Ever. She hated that feeling of helplessness that she had in the orphanage, so she would become the strongest ninja of the lot. To her surprise, she was allowed admittance to the academy by the orphanage, but only because they openly mocked her for her attempts at being a ninja. So, that only strengthened the burning desire to prove them all wrong within herself.
Even though she lacked sufficient chakra control at the beginning, she eventually gained a decent enough level through constant training that never relented and never gave up. When she saw that the peers around her that seemingly hated her were weaker than her now, it gave her a bit of a rush. She wanted strength so badly, she was already on the mark of proving everyone wrong too! But even so, she had the orphanage to deal with, but decided eventually, to finally leave that shithole after all that had happened. She used her first learned justsu, the water dragon to cause some decent damage to the place and left after that. However, since that ,she had no home to go back to, and thus was homeless as a child still. She was not well liked, so she had little else to do other than train as hard as she could and do plenty of missions to ensure that she could get herself out of her own situation. What happens after this is a bit of a mystery......
After many, many, years of training she was promoted to Sannin for her knowledge of ninjutsu. She eventually found Enya Hayabusa, a young jinchuriki whom she agreed to train him in ninjutsu. Enya would prove to flourish under her own training as well, which was a surprise to her. However, on a set of missions outside Kiri, she found a man named Hazumi who also agreed to go on missions alongside her group. She agreed to having him along but the two would prove to not get along at all. Eventually, he left and on a later mission Niji and Enya would come to a major disagreement which forced Enya to release his own jinchuriki to an S-rank level but Niji prevailed anyway, but very tired after the fight.
Hazumi, realizing Niji to be at fault for this knocked her out cold using Enya's poison against her, but not killing her. Niji took this as a personal insult to her own strength and vowed revenge to kill Hazumi. She found him on another occasion but lost due to being arrogant but fought a third time after some chasing and defeated him and saw him imprisoned. After that, she followed him finding the circumstances suddenly suspicious and wanting answers. However, Hazumi would only give them very vaguely which only served to piss her off again despite the fact that she released him.
After that, she returned to Kiri to get stronger and training more, even doing a mission to sneak into Suna to grab a document on Oto! After that was a success, she met up with Hazumi once more in what she thought to be a fight but wasn't against him. Instead, the same masked hooded stranger that had given them all those missions before revealed to wanting to kill Niji and get her head. And he did this by seemingly trying the shock route, by releasing a spirit at her that claimed to be, of all things, her past dead husband. She vehemently denied it, even making the spirit go away with a Fuuinjutsu and killing the hooded dude.
She then left Hazumi there in shock, telling him not to follow. However, he ignored that warning and followed her over to the tavern where she had rented a room for the night and despite trying to put those events behind her, Niji couldn't help but question her own actions before. It was more obvious that what he had said before was not a lie but indeed true, and Niji just trying to ignore the past it seemed. Even to the point where she did something she vowed never to do for she thought it too weak. She had cried right there even though once she realized that she had done so she felt more shame than she had for a long time. But then Hazumi entered and she went ballistic on him, forcing him to wait until morning to speak with her. At dawn, he explained that he once had a family himself but they were killed but Niji didn't seem eager to discuss her own past. She simply agreed not to go for the kill the next time the two met up again as she left, but Hazumi's words about how the were similar kept ringing in her head but not in a way that she liked.
Regardless, it was time for her to move on and that she did. She settled down for a bit before being set out on a quest to find more missing-nin, as she had nothing else to do and these requests were coming up so fast! Anyways , it seemed, somehow, someway, she always found herself having to team up with Hazumi. Once even getting herself significantly injured and having to rest at Hazumi's residence for a while after her injuries had settled (After all, getting hit by an 8 Chakra Gates attack is no fun at all.....). After that it was clear that they were friends at the least, even if they seemed to have qualities that they couldn't stand in the other.
After healing up, Niji met up with Hazumi one more time in some rather obscure mountain ranges outside of Kirigakure. She decided to let Hazumi tag along, but the end result was not what she wanted. It turned out that the person she was hired to kill was the some person that she knew had killed her previous family and even defeated her but let her live out of pity. Naturally, Niji was pissed and used her anger to defeat it handily, but afterwards she refused to talk to Hazumi about anything regarding the incident. He followed her back to her room and confronted her and the two rose hell, screaming and yelling at each other to such heights that was unbelievable. Each mentally attacked the other as far as either one could be pushed until Hazumi offered to leave. By that time, he had actually succeeded in attacking her so far as to make her cry. But she had gotten major reactions out of him, with him even threatening to off himself in the middle of the room so it wasn't one-sided at all. Still, major revelations indeed. Niji convinced Hazumi not to leave simply because she couldn't help but think that they were at least friends with a strange relationship, or maybe more? That's what she wanted to find out. So, in doing so a date was suggested, just to see. And as it turned out, there were indeed feelings as the two shared a romantic kiss. Strange considering they were mortal enemies a year ago. Time can change many things, yes it can.
After a period of time, Niji and her family moved to the new village away from Kiri. Why? Because lol plot devices.
Character Stats
Level
: 95
Stamina (SP)
: 30
Speed
: 30
Strength
: 15
Intelligence
: 10
Chakra Control
: 30
I remember Ny telling me her history would probably have to be redone, so I'll let you mods disect what needs to go and can stay, etc.